Its soft couch enhances patient comfort



The short and wide bore of the device reduces patient anxiety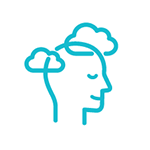 The technology used in the production of this device has reduced acoustic noise
MR Linac is a high technology device which combines the magnetic resonance imaging device (MR) and a linear accelerator in one device.
MR Linac technology enables real-time visualization of the tumor during radiotherapy and by helping the radiation be positioned on the tumor directly, it allows you to monitor the tumor.
By the help of its high definition function, it captures detailed images of the tumor and the healthy tissue surrounding it clearly.
It enables the application of higher doses of radiation to the tumor tissue by protecting the surrounding tissue and organs,
It helps you get fast results during treatment by approaching the tumor tissue in a short time and reduces the treatment time,
It enables radiation therapy for recurrent tumors.
Safe
High Dose
Radiation can be given to the tumor area in high accuracy. As the device has the feature of an MR, while the radiation is given, the tumor can be visualized clearly. In this way the surrounding organs can be protected very well.
Shortens the Duration of the Session
It helps shorten the treatment time 1 to 5 days compared to the conventional radiotherapy.
Personalized Radiotherapy
MR Linac sets a new standard for personalized radiotherapy. It helps you plan treatments for each patient separately based on their treatment
Adaptive
Treatment
It allows you to do adaptive planning and reshape the dose depending on the shape, size and position of the tumor and the daily changes of the surrounding healthy anatomy. It enables adaptive radiotherapy for the patient.
Why MR LINAC?
MR Linac is a high technology device which combines the magnetic resonance imaging device (MR) and a linear accelerator (Linac).
Radiotherapy (radiation therapy) is an important part in cancer treatment. Our aim is to give radiation to tumor tissue and take the tumor under control or destroy it completely. Our main aim is to help each patient receive the best radiotherapy possible. Designed in collaboration with industry-leading experts and world-renowned cancer research institutions, Elekta Unity and MR-Linac technology, which is considered a breakthrough, are positioned at the forefront of patient-centric cancer care.
The hardest part in radiotherapy was to treat the target accurately depending on the movement of the tumor and to protect the surrounding organs. MR Linac is designed to overcome this problem; it focuses on the tumor directly.
Treatment Plan with MR LINAC
The only way to obtain the best possible results in radiotherapy is to plan the treatment according to the needs of the patient. Every patient is unique and every patient needs a personalized treatment. MR Linac technology helps you make treatment plans in accordance with every single patient's needs that their illness requires.
../